Honouring the miracle workers who save lives every day.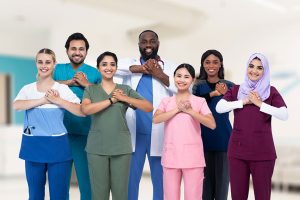 To recognize the phenomenal contribution of nurses to humanity, Aster DM Healthcare launched the Aster Guardians Global Nursing Award on International Nurses Day 2021. A winning amount of $250,000 USD was announced, and leaders of the healthcare fraternity honoured nurses from different parts of the world on the global platform, in May 2022 during the first edition.
Registrations for the next edition will begin from November 1st onwards.
The Grand Jury selected the top 10 finalists from over 24,000 nurses. While one winner was awarded the grand prize of $250,000, the other nine finalists also received monetary awards. There was also a round of public voting. You can witness the event highlights here:
The first winner of the Aster Guardians Award was conferred with US $ 250,000.
24,000 nurses from 184 countries applied for the first edition of the Aster Guardians Global Nursing Award.
ABOUT ASTER DM HEALTHCARE
Aster DM Healthcare is one of the leading healthcare providers in the GCC and India, currently operating 27 hospitals, 118 clinics, 323 pharmacies and 66 labs & Patient Experience Centres spread across 7 countries. In our facilities spread over 5000 beds, 24,000+ employees treat 20 million patients every year. Currently one of the largest and fastest-growing conglomerates in the MENA region, Aster DM Healthcare covers the full spectrum of healthcare services.
Applications for the second edition begin in:
VENUE
The Inaugural Aster Guardians took place in Dubai, on International Nurses Day,
12th May 2022.