Witness the event highlights here:
Honouring the champions of compassion in London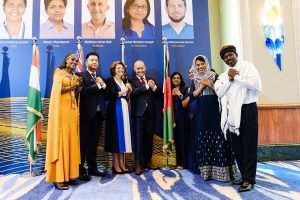 To recognise the phenomenal contribution of nurses to humanity and bring key stakeholders together, Aster DM Healthcare conducted the first-ever Aster Guardians Global Nursing Award ceremony on 12th May 2022, International Nurses Day at the Atlantis, Dubai. Nurse Anna Qabale Duba from Kenya emerged victorious from amongst 24,000 nurses and was felicitated by His Highness Sheikh Ahmed bin Saeed Al Maktoum, Chairman of Dubai Civil Aviation Authority and Chief Executive of Emirates Airline and Group.
The Aster Guardians Global Nursing Award 2023 will take place in the illustrious city of London on 12th May 2023. Along with being honoured on the biggest global stage for nursing excellence, the winning nurse will also receive a life-changing prize amount of $250,000.
We received an overwhelming 52,065 registrations from across 202* countries, which are currently under review. Thank you for sharing your stories with us.
*As per data.worldbank.org/country
Relive the 2022 Award ceremony here:
The winner of the Aster Guardians Global Nursing Award 2023 will be conferred with US $ 250,000
52,065 nurses from across 202 countries submitted their registrations for the Aster Guardians Global Nursing Award 2023
ABOUT ASTER DM HEALTHCARE
Aster DM Healthcare is one of the leading healthcare providers in the GCC and India, currently operating 27 hospitals, 118 clinics, 323 pharmacies and 66 labs & Patient Experience Centres spread across 7 countries. In our facilities spread over 5000 beds, 24,000+ employees treat 20 million patients every year. Currently one of the largest and fastest-growing conglomerates in the MENA region, Aster DM Healthcare covers the full spectrum of healthcare services.