"Doctors are the brain of the healthcare system, but Nurses are the heart and soul. I can say this with confidence, they are running the entire system."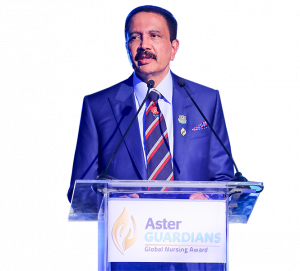 Nurses play a crucial role in impacting healthcare delivery through efficient patient care and by creating clinical benchmarks for the world to follow. The Aster Guardians Global Nursing Award aims to not just celebrate the spirit of nursing, but also to inspire future caregivers to continue making the world a better place to live in.


The Aster Guardians Global Nursing Award 2023 will take place in the illustrious city of London next year, on 12th May 2023, International Nurses Day. Registrations for the second edition are now open.
About Aster DM Healthcare
Aster DM Healthcare is one of the leading healthcare providers in the GCC and India, currently operating 27 hospitals, 118 clinics, 323 pharmacies and 66 labs & Patient Experience Centres spread across 7 countries. In our facilities spread over 5000 beds, 24,000+ employees treat 20 million patients every year. Over the last 35 years, the organisation has been consistent in its mission to provide quality healthcare at affordable costs to the doorstep of the people it serves.
Currently one of the largest and fastest-growing conglomerates in the MENA region, Aster DM Healthcare covers the full spectrum of healthcare services. An expansive portfolio includes hospitals and clinics, pharmacies, diagnostic centres, educational institutions, healthcare management and healthcare support systems.
Headquartered in Dubai, the Aster DM network now encompasses more than 24,000 employees and 3000+ doctors with JCI accredited clinics & diagnostic centres.
Never content to rest on its laurels, Aster DM Healthcare is constantly seeking opportunities to set new yardsticks with advanced developments. With many more innovative and ambitious initiatives, Aster DM Healthcare has radically catalysed the healthcare revolution across the Middle East, India and the Far East.
Each of the Group's verticals is a symbol of distinction, driven by the commitment to build a healthier tomorrow and to take healthcare to the next level of excellence.