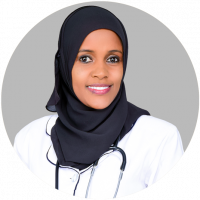 Marsabit County Referral Hospital
Anna Qabale Duba was the first graduate from her village and the only educated child in her family. During her nursing studies, she won the Miss Tourism Kenya 2013. She used her influence to advocate for gender equality and education in her community. Under the Qabale Duba Foundation, she built a school in her village where children could study in the morning and adults in the afternoon. She chose education because she understood that illiteracy held people back from learning new things and changing harmful cultural norms.
Apart from learning to read and write, women at the school learned about the importance of antenatal care, skilled deliveries, and Sexual Reproductive Health & Rights. These initiatives got recognition locally and internationally, including winning the Waislitz Global Citizen's Choice award of $50,000 in 2019. Additionally, the results from this noble endeavour were quite evident. Female genital mutilations and early marriage had reduced tremendously. The largely pastoral community opened up to women giving birth in hospitals. More mothers started sending their daughters to school.
Nurse Qabale made tangible transformations in her home community, across multiple dimensions of society. Now, the success of her actions is inspiring other people to follow suit.
Learn about a day in the life of Nurse Anna here.