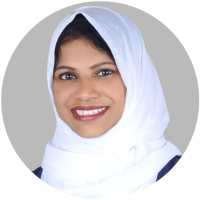 Jasmine Mohammed Sharaf saw the plight and confusion of people in Dubai when they had to opt for the treatment of COVID. She went out of her way after her daily shift, to help the clueless souls with her personal resources. Some of them needed money, while others needed help with things like getting a COVID taxi or delays in getting an ambulance. Some needed an isolation facility but weren't aware of getting one without payment.
Stepping in to fill the gap tirelessly, Jasmine did whatever she could, in her own capacity. When short, she asked for contributions from the community that was readily given. While most of the people in need were labourers, many well-to-do families also asked for her assistance. Once the news of her noble work spread, her phone kept ringing with requests.
She played the roles of a home delivery person, chauffeur, guide, and many others to help people she barely knew and became their family almost instantly. Her courage and commitment to care for anyone who's in need – without bias – define what compassion in action is truly about.
Learn about a day in the life of Nurse Jasmine here.