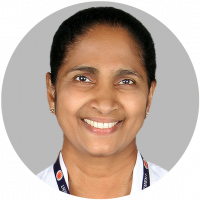 General Hospital Irinjalakuda
Lincy was spearheading relief efforts in her birth country during the COVID-19 pandemic. She was the brave medical professional that took the swab test of the very first infected patient in India, in early 2020 – given that information about the disease was scarce, fear of the unknown was palpable and no vaccine had been discovered yet.
She went on to be appointed as the Infection Control Nurse, in charge of the entire ward. In August 2018, her city of residence, Kerala was struck by a horrible calamity that drowned & killed more than 450 people, while many others went missing and most assets, animals & livestock were wiped out. As the head nurse, she was on call incessantly 7 days a week, pulling 23-hour shifts.
Beyond her tireless duties as a nurse, she has championed an unlimited number of awareness campaigns towards health education, COVID-19 preventative measures, afforestation and waste management. In her 31 years of devoted service, she has rightfully received many awards including the Asianet News Nursing Excellence Award 2021 & the National Florence Nightingale Nurses Award in 2016.
Learn about a day in the life of Nurse Lincy here.