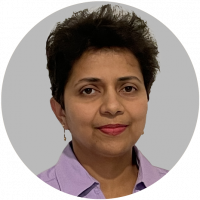 Post Graduate Institute of Medical Education and Research
A born leader, Manju was selected as the best PG neuro nurse at the national level in 2012 when she proved her mettle as a faculty coordinator; as a faculty nursing supervisor by developing the first stroke-support system in the country; and as a secretary of the Society of Indian Neuroscience Nurses that introduced the Stroke Nursing Certification Course.
She was able to conclude from her PhD thesis that patients with neuro illnesses have various cognitive, physical, and emotional problems, while their caregivers have a poor quality of life. To actively tackle this issue, she put forth into action a data & evidence-based initiative that led to her tertiary care central institution approving and introducing the post of a neurosurgery nurse counsellor, under her guidance and expertise.
Her introduction of the communication board, in particular, has transformed the way intubated patients and their families communicate. She has been an active participant in Nursing Research for the majority of her 21-year nursing experience, since 2007. Her unwavering passion for research is backed by the 100 publications to her credit, 10 of which have even been cited in the WHO COVID-19 database.
Learn about a day in the life of Nurse Manju here.