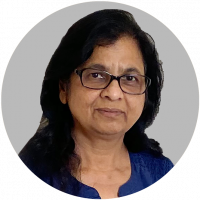 Rachel has a combined nursing experience spanning 40+ years and 3 continents. She received the Provost Award for Excellence in Research Mentorship (2021) and is a Fulbright Scholar. With a specialty in neonatal care, she continued to be a bedside nurse until 2018, which was quite uncommon for a PhD graduate.
She has been passionate about research since she was a young student. With more than 45 peer-reviewed and 30 non-peer-reviewed publications, two book chapters, and 60 presentations to her credit, she currently leads an interdisciplinary research team of 10 members. During her move from India to Oman and then the US, she was faced with language barriers and harsh weather conditions, all whilst trying to raise 2 children.
She voluntarily serves at various prestigious organizations like the American Association of Colleges of Nursing (AACN). She recently signed up to serve the Afghan refugees in the US and strongly believes that humanity transcends everything.
Learn about a day in the life of Nurse Rachel here.