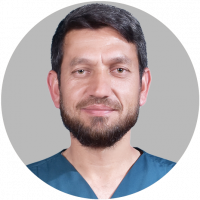 French Medical Institute for Mothers and Children
Wais is the first nurse to have completed his Master's degree in his birth country, Afghanistan. Due to this factor, he has had the privilege to partake in an array of leadership positions. Since 2018, he has been the Founding President of the Afghanistan Nurses and Midwives Council (ANMC) where he reports directly to the President, and in December 2019, he became the Interim President of the Afghanistan Nurses Association (ANA).
Coming from a politically fragile, low-income country like Afghanistan poses many challenges, especially regarding the turnover of nurses in the field. In a recent interview that reached thousands of people globally, Wais spoke in detail about the dire situation of his country. In another first for his hospital, he put together a team of mid-level nursing managers to help conduct various research and quality improvement projects.
He actively leads various standardized evidence-based policies and protocols at FMIC. He has applied for his PhD in Nursing and once he gets through, it will make him the first nurse in the country to have done so, paving the way to continue to contribute to the betterment of healthcare.
Learn about a day in the life of Nurse Wais here.